Coagulation: an Essential Choice
Milestones
1945:

Laboratoire Stago (Paris, France) founded

1962

: Development of the first Haemostasis reagents 

1976: Laboratoire Stago becomes Diagnostica Stago:
The business becomes wholly devoted to Haemostasis
1985

: US subsidiary opened

1987

: Instrumentation activity launched

1988: First automated coagulation analyser patented
1992: Participation in the development of BioCytex, a start-up specialised in cellular biology,

 

specifically in the study of platelets
1992: STA released worldwide
1994: BioCytex joins the Stago Group
1995: STA-R released worldwide
2000

: New reagents production unit (Taverny – France)

2003

: China subsidiary opened

2005

: United Kingdom subsidiary opened

2008

: Distribution office in Dubai (UAE) and subsidiaries in Australia/NZ and Canada opened

2009: DSRV Inc* created – Clarkston, Georgia - USA: following the acquisition of Life Diagnostics (Octapharma diagnosis activity), specialised in tests for lupus anticoagulants and

 

the Synapse* and Thrombinoscope* acquisition (Maastricht, NL), companies specialised in Thrombin Generation
2010

: Tcoag Ireland Limited* created, following the acquisition of Trinity Biotech's coagulation business

2011: Distribution office in Hong Kong
2012: European subsidiaries opened (Austria, Belgium, Germany, Italy, Luxembourg, Netherlands, Portugal, Spain, Switzerland)
2012: First Max Generation analyser launched (STA Compact Max)
2014: Distribution office in Gurgaon (India)
 2017: Acquisition of HemoSonics LLC*  a company specialised in the development of innovative Point-of-Care testing solutions
2017: Albio becomes a Stago subsidiary

* Stago Group Companies
Developing our expertise
We can only develop our expertise in our quest to ensure growth with the full commitment of all the men and women working within the group.
Today, Stago, a French group, employs nearly 2,600 people and has an increasingly international profile, with 35% of its employees currently working outside of France.
Carefully controlled growth
Stago, an unlisted independent family group, is seeking long-term development. All strategic decisions related to the organization, investment, acquisitions, partnerships, product development and new subsidiaries are carefully taken by the executive board and the president with a view to ensuring that the group endures.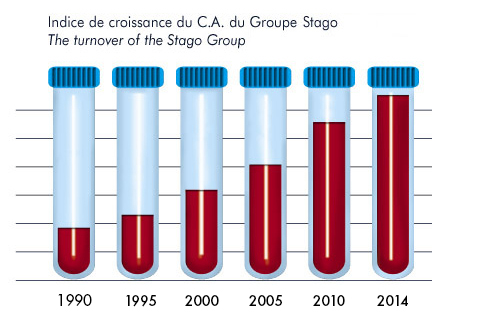 Strength in specialisation
Since 1962, Stago has dedicated its entire resources to developing the single field of coagulation. Permanently attuned to the medical and scientific communities, Stago is actively interested in all advances in this domain and in all the implications of such progress. Through this strategic approach, the company now has many major patents and innovations.
With more than 350 coagulation products, Stago offers a wide product portfolio through its highly effective commercial network (subsidiaries and distributors) and is a market leader in its field.
Plasma Coagulation Testing:
From routine tests to investigation of highly specialised parameters, some of which have been developed solely for specific studies throughout the world.

A complete range of analysers and systems designed to meet the requirements of all laboratories (either autonomous or integrated into an Laboratory Automation System).
Cellular Coagulation Testing:
Use of flow cytometry to study platelets, e.g. cellular receptors and microparticles (

BioCytex).
Thrombin Generation
, a new dynamic approach to coagulation testing: 
Development of standardised analytical systems.