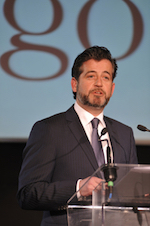 Stago began as a pharmaceutical company founded by Mr Jacques Viret in 1945 with a strong interest in clinical pathology and in Haemostasis in particular, which went on to become our sole business in 1976.
The Stago Group has therefore developed and acquired its expertise over many years, accompanying, and often leading, the rapid growth of this Haematology-related scientific discipline. Which is why Stago is today the only independent international group in the In Vitro Diagnostics industry dedicated to Haemostasis and Thrombosis exploration.
A reference and leader in its field, Stago attaches crucial importance to customer satisfaction. A mission that is underpinned by the values forging our culture: innovation, quality, expertise, team spirit, long-term commitment and pragmatism.
Drawing on our experience of more than 20,000 systems installed in laboratories worldwide, Stago has successfully created and is continuing to develop a comprehensive range of services involving all our teams and partners.
From our position at the heart of Haemostasis, we are only too aware that the health sector is changing fast, and diagnostics in particular. At Stago we manage the entire value chain, and are organised in a way that allows us to anticipate and respond to rapid developments, firm in the belief that we must take nothing for granted.
As a company involved from the outset in human health, ethics are second nature to us, and a fundamental and long-term commitment; and as colleagues, we are united by our collective desire to help improve patient care.
Driven by its strong human and technological potential, Stago still has much to contribute.
Lionel Viret
Owner of the Stago Group